OEM & ODM

Clothing Not Just

Dark T Shirts
A special design style can help you develop your brand faster

Custom Service Advantages of
Touches Dark Clothing
OEM & ODM Capability

Designer Team
The team consists of domestic and international designers.

We have an international perspective and adhere to professional design standards.

We have a deep cultural understanding.

We possess strong design, development, and innovation capabilities.

We collaborate with overseas studios and brands.

Factory
2 factories - located in Guangdong and Hubei.

With 10 years of export experience and 16 years of production experience.

Monthly production capacity exceeds 160,000 pieces.

Efficient operation with over 100 workers.

Equipped with complete facilities, including sewing machines, weaving machines, ironing machines, computer cutting machines, and more.

Supply Chain
Proximity to fabric markets and stable suppliers with over 10 years of cooperation.

Diverse supply chain options, including washing, tie-dyeing, and printing, to meet various needs.

A team of 8 dedicated procurement specialists and efficient procurement management.

Stringent production control measures ensure high-quality standards.

Swift logistics services for fast and reliable delivery.

Proofing Ability
CADs/Mock Up can be produced within 24 hours.

Quick sampling turnaround of 7 days.

Capability to create styles with 2-3 different workmanship within 2 weeks.

Custom logo design completed within 3 days.

Samples received within 12-25 days.

Low defective rate of less than 3%.

Various product certification certificates provided, such as SGS, BSCI, etc.

Service and After-Sales Team
Inquiry replies within 24 hours.

3 inspection procedures conducted during production.

Offering 100% inspection services as well as third-party inspection services.

Providing transparent production scheduling plans.

Quick resolution of disputes within 2 days.

Customization Options
OEM/ODM Custom

Low MOQ customization For 50 Pcs

Flexible customization

Private Customization

Celebrity Personalization
OEM & ODM
Clothing Manufacturing
As someone with their own brand or serving as a clothing procurement manager, you can rely on TOUCHES DARK's OEM custom service to accomplish the following tasks:

As an OEM custom clothing manufacturer, we provide custom clothing production services. We start from scratch to create garments that reflect your unique designs, rather than offering ready-made styles.

We produce samples according to your requirements to ensure they meet your design specifications and quality standards.

We offer a diverse range of fabric and accessory options to help you choose materials that best suit your brand style and needs.

We provide suggestions regarding sustainability to help you develop environmentally friendly and sustainable clothing production plans.

You are welcome to visit our factory and witness firsthand how your products are manufactured. Transparency and trust are fundamental to our collaboration.

We strictly adhere to delivery deadlines and can also expedite production to meet your urgent delivery requirements.

We ensure efficient communication. Our pre-sales and after-sales team will engage in effective communication with you, thoroughly understanding your needs and requirements.
By relying on an OEM custom clothing manufacturer, you can gain access to professional custom services that meet your unique brand requirements and ensure the delivery of high-quality products.
The minimum order quantity is 200 pieces per design per color in any sizes. If your design uses special fabrics that need to be dyed or customized, the MOQ is 500 pieces per design per color in any sizes.
If you still have any doubts or questions after reviewing the above information, please feel free to contact us. Our customer representatives will provide detailed explanations and address your concerns. If you have a clear understanding, we invite you to proceed with further reading.
Contact NOW
Custom Clothing Services

Not Just Dark Themed T-shirts
TOUCHES DARK specializes in dark-themed trendy T-shirts. However, it doesn't mean that we don't accept customizations for other clothing categories. Our custom product offerings are not limited to what you see in the image above. We provide customization services for various types of clothing!
You don't need ready-made garments from wholesalers; instead, you want to customize through an OEM clothing manufacturer. This is because you have specific requirements for customizing garments, such as different needs for accessories, zippers, sizes, fabric weights, and more. You should rely on the database of custom clothing manufacturers, such as TOUCHES DARK, as they can provide you with references and data for various types of custom clothing products, including T-shirts, hoodies, jackets, streetwear, and more.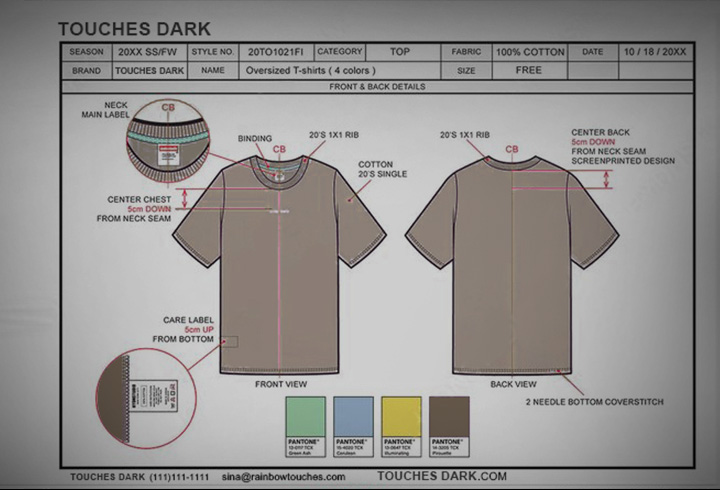 Tech Pack Document Pictures Required For Customized Clothing
Make garments from
tech packs
OEM custom clothing typically requires you to provide detailed requirements, such as designs, samples, or specifications, and then place your brand logo on the manufactured garments.
We are a professional custom clothing manufacturer, and we have been producing various garments, relying less on established templates or patterns. However, we usually require tech packs or other detailed specifications to create and send samples.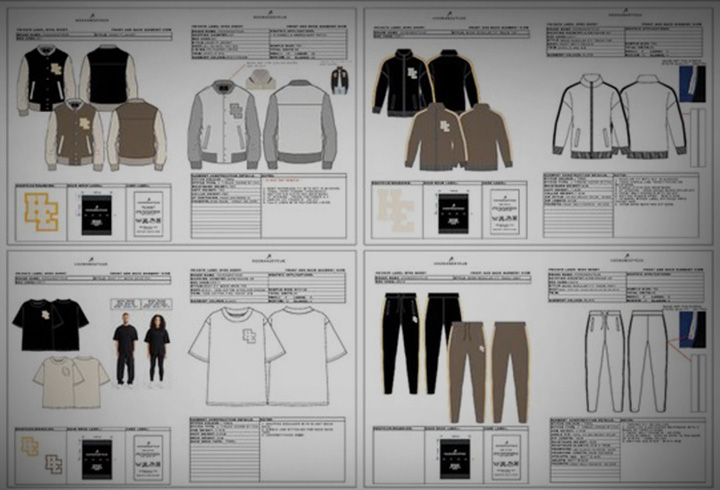 Tech Pack Document Pictures Required For Customized Clothing
What is a
tech pack?
The tech pack is a dmethods, and fabric details. For clothing custom factories, a tech pack is essential as it contains all the necessary details and requirements specified by the client. It provides guidance and reference for production, ensuring product quality and customer satisfaction.ocument or set of drawings that includes detailed information such as manufacturing processes, size specifications, sewing
Size and specifications:

The tech pack includes the size and specifications of the garment, such as collar size, sleeve length, and pant leg length, which are crucial for determining the comfort and fit of the clothing.
Sewing methods and techniques:

The tech pack provides detailed instructions on sewing methods and processes, such as thread color, thickness, and strength, which are important factors in ensuring product quality.
Fabric selection and quantity:

The tech pack guides the selection and quantity of fabrics so that the factory can purchase and use the correct fabrics according to the client's requirements, resulting in garments that meet the specifications.
Quality requirements:

The tech pack also includes quality requirements, such as yarn quality, stitch density, ironing level, etc., which help the factory understand the client's requirements and standards, ensuring that the products meet the specified criteria.
Product consistency:

The tech pack ensures that all products are manufactured according to the same specifications, sizes, and quality standards, ensuring consistency and stability in product quality.
Translation: Ideally, you would have the tech pack document and send it to us. However, if you don't have the document, you can still send us clear pictures of existing products that match your desired appearance. High-quality images and detailed close-ups can help us better understand your customization requirements. If you are unsure about the sizes, we can provide you with one or multiple size options, especially if you have a specific target audience in mind.
If you don't have a tech pack and would like to obtain designs, samples, and specifications from us, as most of our products are custom-made, you can consider our other services such as Low MOQ Custom, Flexible Customization, Private Label Customization, or Celebrity Customization. You can reach out to us by sending an email (contact us) or directly contacting our sales team for further collaboration.
OEM Cooperation Process
How to Do
Garment OEM Customization

with Us

Initial Consultation
You can contact us through phone, email, or online inquiry to initiate the consultation process. During this stage, you can discuss your custom clothing requirements, design concepts, fabric preferences, desired quantity, and more with our team. We will carefully listen to your needs and provide professional advice and suggestions.
Feel free to introduce yourself and your brand, giving us sufficient details about your vision and brand characteristics. Share as many details as possible. If there are specific designs you want for your clothing, emphasize their importance to ensure we pay close attention to those details.
Select Service and Request a Reference Quote
Before the sample design and production stage, it's important to determine the type of service you require, such as flexible customization, OEM/ODM, private label customization, etc. Based on your requirements, we will design and provide a quotation. Our pricing is determined by factors such as your custom quantity, complexity of craftsmanship, fabric and accessory choices, etc. We generally provide suitable pricing options for you to choose from. Our pricing is transparent, and you can refer to our price explanation. We also ensure that you can achieve the desired profit margin on your project.

Design and Sample Development
During the product design stage, you can showcase the type of clothing you want to produce. With over 10 years of clothing manufacturing experience, Touches Dark can provide you with some customer collaboration cases for reference. Once your requirements are finalized, our design team will start creating your clothing design. Throughout this process, we will engage in continuous communication and adjustments to ensure the design meets your expectations. Once the sample manufacturing is complete, we will send the samples to you for confirmation of the final outcome and detailed review.

Contract Signing and Confidentiality Agreement
Once you are satisfied with the samples, we will confirm the customization details with you and draft a custom contract. The contract will specify fabric selection, size requirements, custom quantity, delivery dates, customization fees, and other important terms and conditions. We can also sign a confidentiality agreement with you to protect your design intellectual property.
Once the custom contract is finalized, our production team will begin manufacturing your custom clothing. We will strictly adhere to quality control processes to ensure that each garment meets the quality standards. Our team will maintain close communication with you and provide you with regular updates on the latest production progress.

Delivery and Payment
Upon completion of all custom clothing, we will conduct a final quality inspection and contact you to arrange the details of delivery and payment, including packaging, shipping, import/export duties, etc.
We offer global logistics services to ensure the safe delivery of your custom clothing to your specified location. Alternatively, you can arrange shipment of your custom products through your own third-party freight forwarder.
Start Customizing
Quick Customizable

Design Of Dark Clothing
From concept to ready-to-wear, we specialize in full customization, offering personalized clothing manufacturing services to bring your unique vision to life.