Dark Streetwear Clothing

Sample
We have CAD custom pattern design capabilities and website 3D modeling capabilities

Quickly

Customize Samples for You
As a custom clothing brand, we offer a variety of technical capabilities, including cad pattern design and website 3D modeling, to ensure that every piece of custom clothing meets our clients' personalized needs. Our pattern design team can create creative designs according to your requirements, and deliver them within 24 hours through cad pattern design. Additionally, our 3D modeling technology can help you better understand the appearance and details of your custom clothing to ensure that the final product meets your expectations. We believe that these technical capabilities are important advantages that help us stand out in the fierce market competition as a leading custom clothing brand.
Touches Dark Sample
Pattern
Design Capability
Our company's pattern design team possesses extensive design experience and professional knowledge, and can provide you with a variety of pattern design services, including trendy, streetwear, and artistic styles, among others. We utilize the latest design software and tools to rapidly create unique and personalized pattern designs in accordance with your needs and requirements. Our designers can create distinctive clothing patterns based on your creative concepts, including color, shape and pattern. They employ their artistic sense and aesthetic abilities, along with design software and hand-drawing techniques, to create patterns for you, and convert your design into the technical drawings or files needed for actual production. Additionally, our pattern design capabilities are combined with the production process, taking into account factors such as pattern complexity, size, and fabric, to ensure that the final clothing pattern meets your expectations and can be successfully produced.
Learn more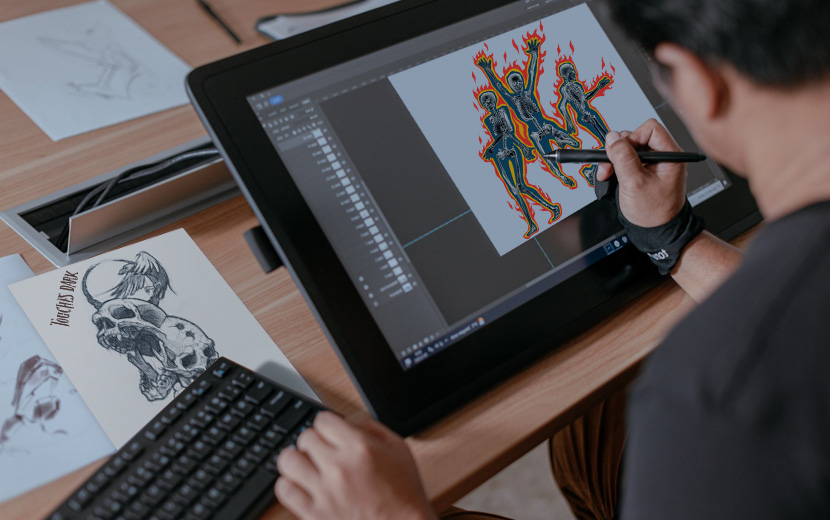 Touches Dark Sample
Modeling

Capability
Our modeling team has mature modeling techniques and experience to quickly and accurately model the design patterns you provide, producing realistic and detailed samples. We use 3D modeling software and technology to present you with the most realistic effect, allowing you to better understand your own design. We provide you with 3D solid models through modeling, which can more intuitively display the appearance, details, and structure of your clothing, helping you better understand and evaluate design schemes. We use computer-aided design (CAD) software to create 3D models and can adjust and modify them according to your needs. Through modeling, we can avoid problems and save time and costs in the actual production process, while also preparing for sample and mass production more quickly.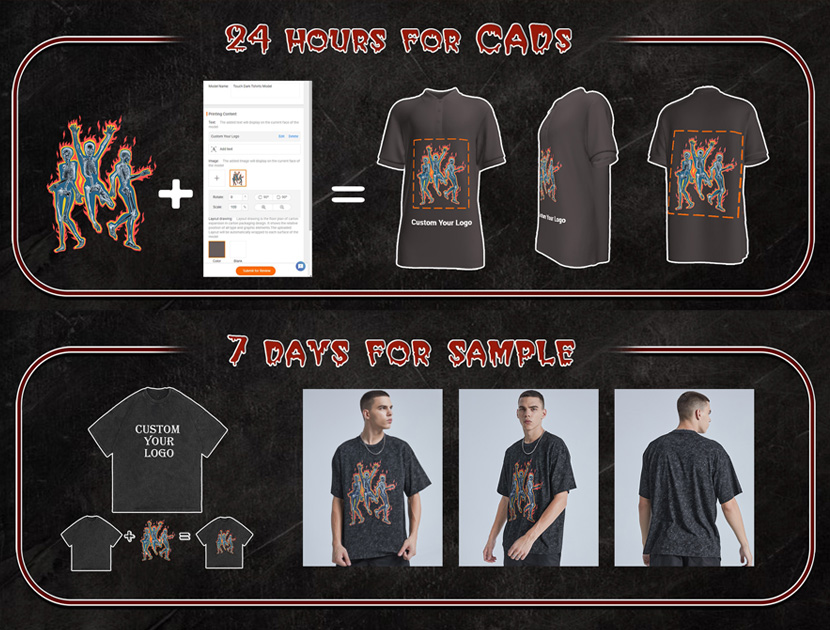 Why Choose Touches Dark
Strong Independent
R&D Capabilities
we firmly believe that research and development capability is a crucial indicator of an excellent custom clothing company. Unlike other companies, we have strong independent research and development capabilities, which allow us to ensure that the clothing you receive is the most personalized and meets your precise requirements, starting from every detail. Our R&D team focuses on creating new designs, constantly exploring and experimenting with new fabrics, colors, cuts, and accessories to ensure that your custom clothing is innovative and personalized. Additionally, we have 24-hour CAD custom pattern design and 3D modeling capabilities, enabling us to turn your ideas into real samples faster and more accurately. No matter what kind of clothing you want, we can help you achieve it and provide you with the best products and services.
R&D Capabilities
Customized Client
Sampling Plan
As long as you are interested in Dark Streetwear Clothing, we can provide you with a professional customized sampling plan.

Plan A
If You Have Your Own Brand
You can provide a product id. Along with your tech pack and the id, materials, style, size, color design, or budget for the product, we can develop the product according to your requirements.

Plan B
If You Do Not Have Your Own Original Design, But Only A Concept.
If you have a benchmark client website you like, we can use similar products from that website to create a sample for you.
If you don't have a website to provide, you can give us a local store's name, and we can help you design the product you need based on its retail products.
R&D Capabilities
Sampling

Ability
Our Factories Have Strong Technical Capabilities And Resource Acquisition Abilities.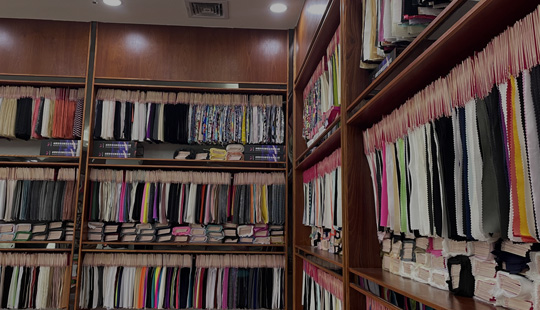 Supply Chain Advantage
you can see on our website that we have a vast range of techniques and fabrics, including many novel and unique materials, which make up our entire supply chain.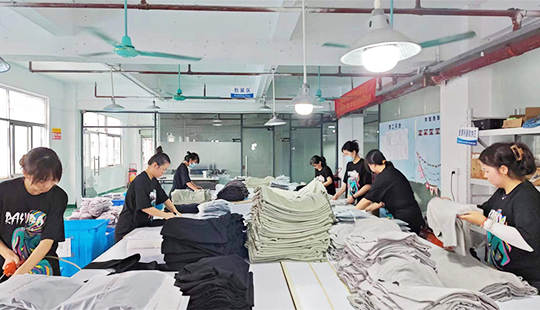 Factory Advantage
We have our own factories in both Guangdong and Hubei, and we have advantages in terms of technical resources in our factories.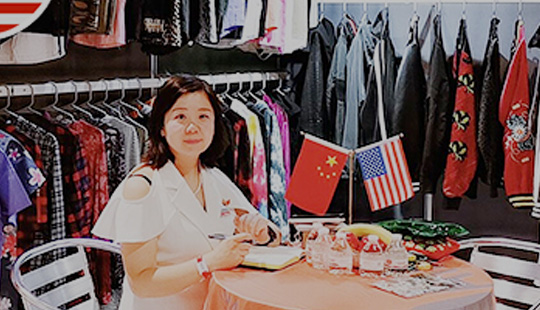 Information Advantage
our product information is very comprehensive, as we have branches in south china and central china. We are well-informed and actively participate in the popular clothing industry events in china, such as the guangdong export commodities fair and the shanghai world expo. We also frequently attend international trade shows abroad. Of course, we also engage in domestic product design, and our team is very young and innovative. We often pay attention to trends on google and fashion magazines such as fashion bazaar. 
R&D Capabilities
We Support
Purchasing Agents
We can assist you with purchasing samples and fabrics in China. No matter what kind of samples you prefer, we can help you purchase them from a market in a specific city in china. We can also assist with purchasing new materials and techniques, and have them delivered to you. This will help improve the research and development of your samples.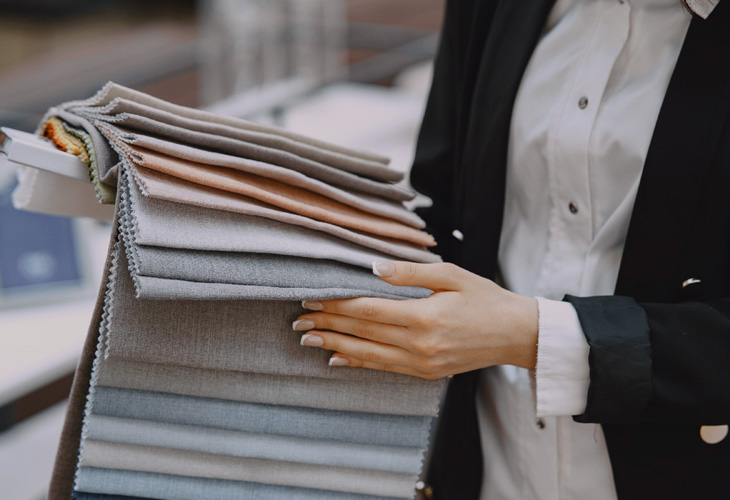 R&D Capabilities
Designer
Art School Designer Team

Our designers are from Wuhan academy of fine arts, Wuhan textile university, and Guangdong academy of art and design. They possess professional academic and aesthetic abilities, and have a strong sense of clothing selection and original design. Therefore, our designers have strong professionalism and high capability in original design.
Cooperative part-time designer

We also recruit part-time overseas designers. We recruit overseas designers through social media platforms such as Linkedin and Facebook, and we also have cooperation with part-time designers overseas. Therefore, our company has an advantage in R&D capability compared to other companies. If you have a dream and are a designer who likes the dark streetwear style, you can also discuss and cooperate with us to join our team.
R&D Capabilities
Third Party
Cooperation
We can assist you with purchasing samples and fabrics in China. No matter what kind of samples you prefer, we can help you purchase them from a market in a specific city in China. We can also assist with purchasing new materials and techniques, and have them delivered to you. This will help improve the research and development of your samples.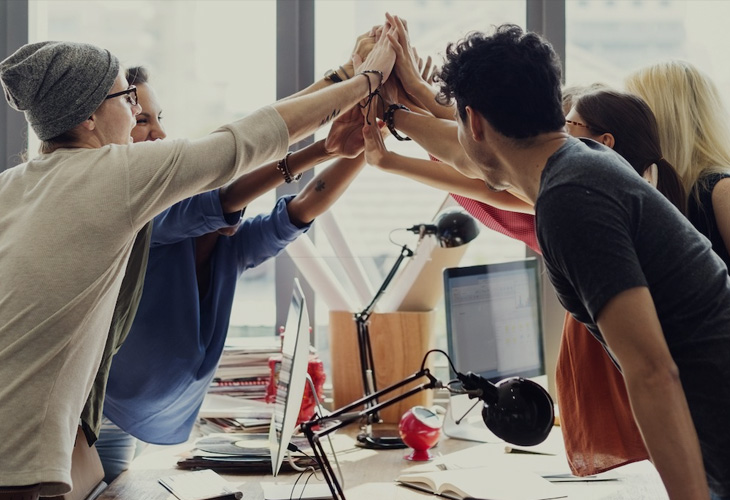 Start Customizing
Get A
Free Quote
Touch Dark is a one stop shop for OEM custom knit and woven garments. With over 16 years of experience in garment manufacturing and 9 years of experience in exporting.
To help provide you with an accurate quote, simply fill in the enquiry form below, the more detailed you fill in, the faster and more accurately we can provide you with a hassle-free and favourable quote.
From concept to actual wear, we bring your fashion vision to life. Request a free quote and start your personalised fashion journey.